"The Numeral March" - Activity Tip
Hint: When placing the numerals on the floor, place them is sets of two, leaving plenty of space between each set. Tell children that when they locate a matching numeral they "freeze" in their position until you say "exchange." When they hear the word "exchange" they hand their numeral to the friend who is standing beside them.
http://kimboed.com/movingtomath.aspx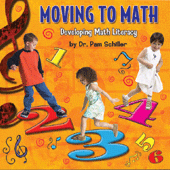 By Dr. Pam Schiller
Developing Math Literacy. Clap, snap, tap, and rap! Crucial math concepts have been combined with lively music and activities. Skill-sequenced songs are "stepping stones" to learning, building one necessary skill upon the other. Kids will gain important basic knowledge and a solid foundation for math readiness, which will promote confidence and reduce anxiety.